Nookalamma Temple
Anakapalli Nookallamma is a mighty deity in north Andhra Pradesh with a history over 550 years. Sri Nookallamma is having known as Nookambica and Kakatamba. In 1450's Anakapalli was ruled by a Kalinga king named Kakarlapudi Appalaraju. He built a fort in Anakapalli and built a temple for Kakatamba on south side of his fort. Later on this region was ruled by King Jagannadha Raju Payakarao, during British ruled in India. He was hanged to death when he lost the battle with British in the war at Payakaraopet. Britisher's appointed Vijayanagaram Raju as king in this region. It was during his rule goddess name was changed to Nookambica. In 1953 this temple was under taken by the government. The deity's statue was rebuilt; every year a Jatara takes place for one month from the day before ugadi, the temple is open for public till 8pm contact details 08924-226823.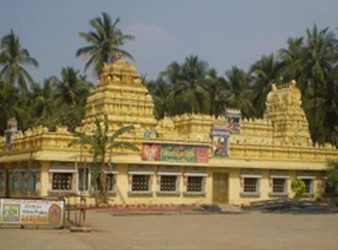 ---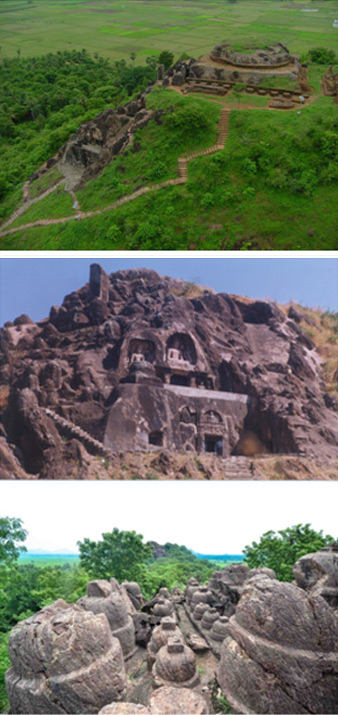 Bojjanna Konda is a Buddhist heritage site
Sankaram village at Bojjanna Konda near Anakapalle is one of the popular Buddhist heritage spot surrounding to Visakhapatnam. Few centuries back this place was the center of Buddhist culture and teachings. The name of the village Sankaram derived from the word Sangharama which meant monastery. There are many monolithic stupas, rock cut caves, and ruins of prayer halls, meditation halls, and brick build structural edifices, resting places available on the twin hills of Bojjanna Konda and Lingala Konda. This place is located by the side of the river Sarada. During the excavation of this place many age old coins, clay tablets of Sitting Buddha were found. There are many Buddha statues carved on the rock-face of the caves.

Sankaram village is located at a distance of 50 Km from Visakahaptnam. On National Highway No 5 it will not take more than one hour to reach this place. There is no entrance fee for entering; there are guides available to show you the caves and its importance if you are a serious visitor. The hill top gives a panoramic view of the green fields and distance hills of the surrounding area. In the nearby hill of Lingalametta there are big and small rock cut monolithic stupas carved on single rocks of different shapes. Some stupas are as high as a two stored building. This part of the state has relics of all the three phases of Budhism - Hinayana, Mahayana and Vijrayana. So in one hill there is status of Buddha and in other there are many Stupas available.

On the Bojjanna Konda hill here are prayer halls where places marked in elevated platforms in semi circular shape for Gurujee and in circular shapes for the followers. The rooms of the followers are still available and each room has grooved place on the wall for lamps. There is a cave with single rock cut four pillars with Buddha Status and another cave with nine pillars. There are wells built by cutting the rocks for storage of water.



---
Kondakarla Ava
Just 11 km from Anakapalle is Kondakarla Ava. It is the second largest freshwater lake in the state and has been designated an ecotourism destination. Near the lake is a temple dedicated to Shri Dakshina Kasi Visweswara Swamy which houses the largest crystal lingam in the world. There is also a temple for Bhagiradhi Ammavaru, which conducts annual Dussara festival for 10 days.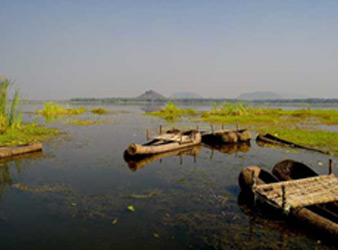 ---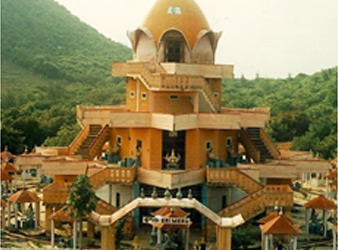 Devipuram Temple
Around 6 Km from here is a village called DEVIPURAM, it is very famous for Goddess Sahasrakshi Meru Temple Kamakhya Devi. Devipuram was dream project constructed by former nuclear scientist Dr. Nishtala Prahlada Sastry ( He worked at the Tata Institute of Fundamental Research in now Mumbai Bombay for 23 years; later he worked as a teacher in Africa for two years. It's known as the Shakta school of Hinduism, it is dedicated to the goddess Sahasrakshi (lit., "she who has a thousand eyes", a form of Lalita Tripurasundari or Parvati), and her consort Kameshwara (a form of Shiva).



---
Panchadarla
Just 10 kms north east of Yelamanchili and 24 kms from Anakapalli is Panchadarla as it derived its name from the five Jets of water coming out of five fountains which receive their supplies from a natural perennial spring. Nearby there is lingam on which are carved other lingams in 12 rows of 85 each and which is consequently known as the Kotilingam or Crore of lingams. There are several inscriptions on the pillars of the Mandapam in the temple and two of them dated in AD 1407 and 1428 contain a genealogy of chiefs who claimed Eastern Chalukya ancestry and bore the Eastern Chalukya titles of Sarvalokasraya and Vishnu Vardana.