Dwaraka Tirumala - Is Temple for Lord Venkatesh
Located in West Godavari district with green cover surrounding areas to this temple town is popular among devotees. Lord Vishnu (Lord Venkatesh) temple is the replica of Tirumala temple of Tirupati. This temple entrance is visible from far of distance also familiar as Chinna Tirupathi. There are around 40 steps to climb to reach the main entrance with an ample car & bus parking area, in a circular path close to the temple. There is a queue system for Darshan, Quick Darshan or special Darshan ticket is also available here. Depending on the busy seasons and holidays the queue increases

Inside the temple complex and outside the main temple area photography is allowed. There is no camera fee or video fee. After darshan one can buy prasadam from the counters available by the side of the temple. There are several hotels available at Dwaraka Tirumal for night stay. The temple management runs several Choultries, Kalyana mandapam, guest houses and dormitories for the devotees to stay.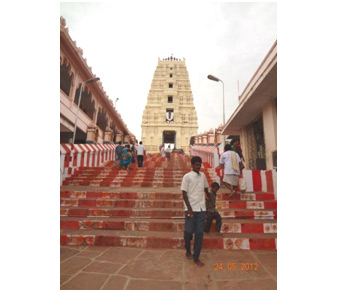 Temple Timings
Darshan is available : Morning 6 AM to 1 PM And Evening 3 PM to 9 PM
Temple remains closed : 1 PM to 3 PM
How to reach Dwaraka Tirumala
By road it's 300 Km from Visakhapatnam, the main town is Rajahmundry 90 KM and Eluru 45 KM. both are the main cities. One can hire a taxi or cab or public transport from Visakhapatnam.