Araku Valley
Is a hill station to relax and enjoy nature? Here are few tourist spots in Araku and they can be visited in three to four hours time. Araku is a famous hill station of AP. It is located at a distance of 130 KM from Visakhapatnam or (Vizag). Located on the Eastern Ghats, It is famous for its scenic beauty. It has valleys, waterfalls and streams flowing by the side of the train track and roads, during rainy season. The journey to Araku Valley is the most enjoying as the rail passes through tunnels, hill sides and streams. It is better to make advance bookings by rail and return by road. If you have time you can go ahead upto 20 KM to Chaprai a perennial stream flowing over a rocky slope.

On the way to Araku by train one can see picturesque Landscape with greenery, valleys and peaks. Before reaching Borra Caves (Guhalu) Railway station the train passes through 42 tunnels.

Weather in Araku valley – It is cooler than Visakhapatnam but don't expect a hill station climate in summer. Temperature can go up to 42 degree in May month. Winter temperature can come down to 14 – 15 degree. Normal rain you can expect at Araku and the area gets hit by cyclonic storm of Bay of Bengal during the month of October – November.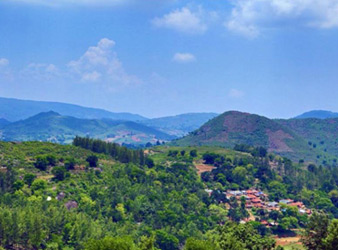 ---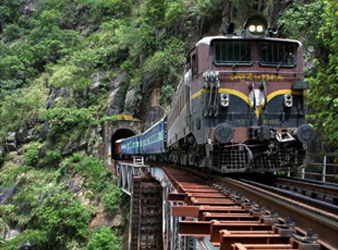 Tourist Places in and around Araku Valley :
Borra Caves
Araku Valley
Padmapuram Gardens
Tribal Museum
Coffee House
Damku View Point
Galikonda View Point
Coffee plantation (on the way to Araku)
Tyda Jungle Bells
Movie shooting takes places in this area (Before Araku Valley)
---
Padmapuram Gardens
Padmapuram Gardens is a tourist attraction in the Araku valley. This garden has a good collection of appealing plants and flowers. This garden provides a novel atmosphere with unique flower garden and numerous hefty trees like eucalyptus, pine etc. Tribal welfare department has one Horticulture nursery cum training center run here.

One can play and enjoy hide and seek, game along with kids could be a lot of fun here.

It is open from 8 AM to 12.30 PM and again on 2.00 PM to 5.00 PM.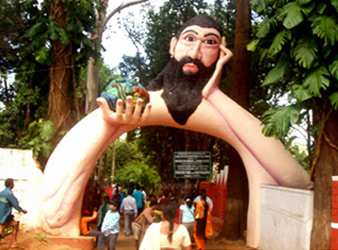 ---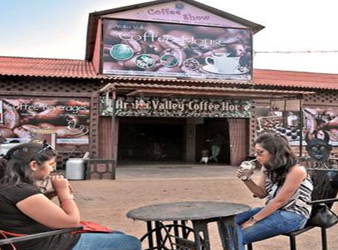 Coffee House
At the Araku town behind APRTC bus stand there is a coffee House. Here you will get all variety of Coffee one can sip hot coffee and get lost off this world. Inside the coffee house you will get history of coffee plantation in Africa, Europe and India. One can buy chocolates, cakes and different of coffee related products under one roof.



---
Tribal Museum
The Araku Tribal Museum is perhaps as famed as the place that houses it, the splendiferous Araku Valley. Started in February 1996, the museum unlike others is not historical, but instead showcases the orthodox lifestyle, along with the social, economical and cultural norms and customs of the native tribes of the region. The museum itself is built with mud and various metals that give it an authentic tribal feel and lend more credence to the artifacts that reside within.

Aimed at preserving and displaying the dominant traits of original tribal culture, traditional handicrafts, and fine arts of ancient tribes, the display of beautiful artifacts, intricate ornaments and exquisite textiles of the tribes of Northern Andhra Pradesh is a sight to behold. There is a tribal museum on tribal heritage, living system and culture. Near the museum boating facility is also available. Opening times 8:00 AM to 1:30 PM lunch break 2:30 PM to 6:30 PM.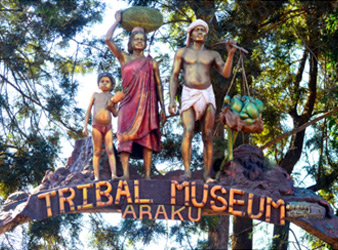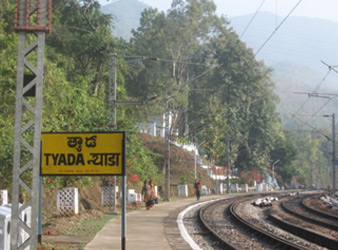 Tyda
An eco-tourism project this nature camp located at a distance of 90 Km from Vizag (On the way to Araku valley) is right place for bird watching, rock climbing, trekking and overnight stay. No one is here to disturb you one can enjoy the perfect silence in the lap of nature.



---
Waterfalls
There are few waterfalls in Araku, Katiki waterfall is near Borra Caves. Tatiguda and Chaparai are other waterfalls tourist can enjoy. Near Borra Caves you can take a jeep ride to Katiki Waterfall

There are Jeeps & Trekkers which provide service to travel this place in deep woods.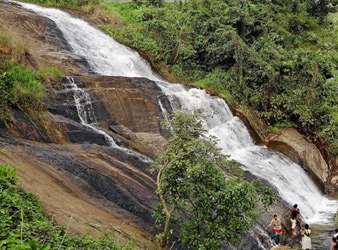 ---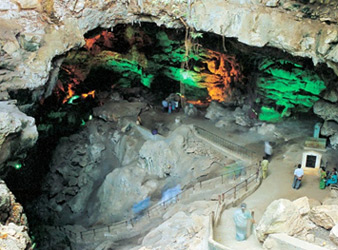 Borra Caves
Located towards north of Visakhapatnam at a distance of 100 kms. The caves open with 100 meter on horizontal plane and about 75 meters on vertical plane. These caves spread over an area of one square KM and the origin of river Gosthani which flows through the district. This is a must see if you are in Araku Valley or in Visakhaptanam. This location is at a height of 800 to 1300 meters from MSL. William King the British geologist discovered this million years old cave in the year 1807.

Breath taking hilly terrain, beautiful landscape, semi-evergreen moist deciduous forests, and wild fauna of the area are a visual feast. This cave is the biggest in India considering the area it has spread geographically. The humic acid in the water reacts with calcium carbonate in the limestone and dissolves the minerals breaking the rock gradually. The perennial water flow over a period of time results in the formation of caves. Stalagmites are formed due water percolating from the roof containing calcium bi-carbonate and other minerals from mounds. Same way stalactites are also formed and because of their different shapes tourist and locals have given different names to them. One can see different formations of the stalactites and stalagmites as Shiv - Paravathi, Mother-Child, Rushi's Beard, Human Brain, Crocodile, Tiger and Cows udder. . Entry fee applicable as follows - for Adults, children's camera, video & digital cameras. Timings: 10:00 AM to 05:00 PM (1.00 to 2.00 is lunch break).